SEPTIC DESIGNS of NH, LLC
Licensed Designer, Installer, and Certified Septic Evaluator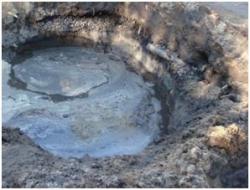 Figure 1: Old Pipe and Stone leachbed and part of it was under the existing driveway. A septic company was called to pump out the septic tank as well as the contained effluent in the old leaching area. The effluent was trucked off and not left on the property to prevent any disturbance of not only the surrounding area but also the stream on the property, the clients and neighbors wells, as well as the river behind the property. The old leachbed was removed up until the edge of the driveway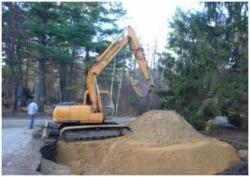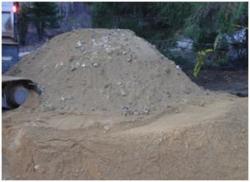 Figures 2 & 3: During excavation we notified the client that a lot more material was going to needed to be trucked out of the property in order to do the installation correctly and without cutting corners and he agreed. If you notice in the bottom right corner of Figure 2 there is original native material. 15 Tri-axle loads had to be trucked off of the property and because of the lack of room the machine had to work its way out of the property and the back (closest to street) was excavated more. Once that was done clean fill was brought in as a base for the trucks to back onto in order for the machine to get the remaining material left on the front (closest to house) of where the new leachfield was going. The entire hole ended up being about 6-7′ deep; a layer of bank run gravel was put down for the initial base (top pile to be spooned in, course sand (golden color) was put down as an intermediate layer, and then washed manufactured sand (not pictured) was put down for the leaching bed (1 foot layer) and for coving the leachbed material.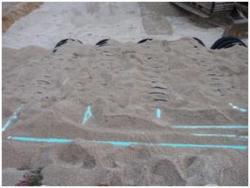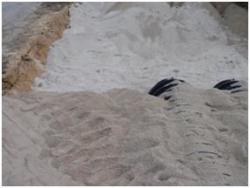 Figures 4 &5: In these photos you can see the course washed manufactured sand  used for bedbottom and the initial covering of the plastic chamber leaching area. SCH 40 PVC was used from the tank to the D-Box to help prevent any potential future issues with the pipe from lawn use or landscaping. SDR 35 PVC was used in the leachbed front manifold and the vent manifold in the rear. SCH 40 PVC was used for the vents main line out of the ground to prevent any damage from lawn mowers. Because of the location of the clients property in relation to the culvert, stream, and river we decided to construct the bed with 6′ fill extensions; the additional material was worth the cost as it will add to longevity and filtration protection of the area.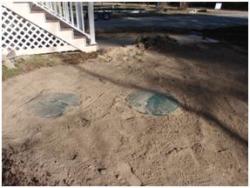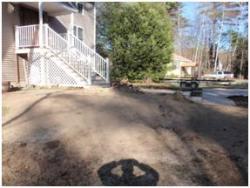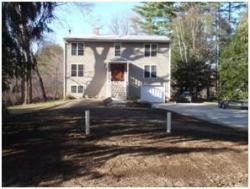 You may also notice that they are not "candy canes" or painted but just white. For this install the vents will be hidden by faux granite posts. In a couple weeks the yard will be hydro-seeded to complete the install 100%.