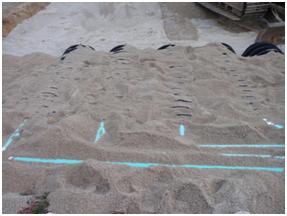 At one point or another, most property owners have experienced the inconvenience of a clogged drain in their homes. While some of these blockages can be dealt with using over-the-counter products, this not the case when you have a septic system, as traditional drain cleaners can kill off the beneficial bacteria that help your septic tank do its job. In fact, clogged drains can indicate problems with your septic system. That's why, when your plumbing is hooked up to a septic system, the best way to deal with any clog is to call a professional with the right tools and experience to effectively unclog drain blockages. If your home or business is experiencing issues due to a drain clog, call the experts at Septic Designs of NH, LLC, right away! We have seven years of hands-on experience to rely on, and we'll use our specialized septic expertise to help solve your problem, no matter how complicated it might be. 
Dealing with a clogged drain requires advanced knowledge of what is causing the blockage. Common causes of such blockages are food, hair, and even tree roots. No matter what the problem is, the professionals at Septic Designs of NH, LLC, can help pinpoint the problem and provide a method to relieve clogged drains. We can utilize a drain snake or rely on other tools in order to break up the blockage and unclog your drain. No matter what methods we use to unclog your drain, you can expect some of the best customer service and high-quality workmanship out there. We'll show respect for your property and do whatever is necessary in order to get your drains and your septic system working once more.
When a drain in your home is clogged, you shouldn't delay in getting the pros out to look at it. If your pipes are blocked in any way, waiting could mean that you face more costs in the future. It may be time to get your drains snaked if you notice any of the following issues:
Unusual odors
Limited drain flow
No drain flow
Gurgling or other unusual noises
Our drain unclogging services are available for both residential and commercial owners located throughout Nashua and the surrounding communities. Call us today for help with your drain clogs, and we'll help restore your system to perfect working condition.
Tree Root Removal
Unfortunately, tree roots are sometimes the culprits of clogged drains or lines in your septic tank system. When this happens, you'll need to get root removal right away, or you could experience major problems with your system. When you need root removal, you can count on the pros at Septic Designs of NH, LLC. We can remove tree roots from your tank or the surrounding pipes or lines and help get your system functioning properly in no time. When you want reliable customer service and satisfaction that's guaranteed, we're the experts to trust. Call us today!